Thank You For Our Puppy‏
| | |
| --- | --- |
| From: | francisco villarreal (panchovilla502000@yahoo.com) |
| | |
| Sent: | Wed 7/22/09 4:55 PM |
| To: | gotapuppy@hotmail.com |
| | |
.ExternalClass DIV {;}
HI Melinda: July 22, 2009

Just wanted to let you know that we just adore our new Maltipoo Puppy. He"s in great health, strong, and full of energy.He is our second puppy from ya"ll and would just like to say thank you from our entire family. We have named him PEPE LE PEW..
Here's a picture of him hope you like it.. Nice doing business with honest people who love animals as much as we do.. We have purchased two boy maltipoos and they are in excellent health and have become the loves of our lives..

Much Thanks
The Mendez Family/ San Antonio, Texas

To Gotapuppy.com
Malorie Wrote:
malorie@potelco.org
We absolutely love having her in our home new puppy! She is the sweetest, most beautiful Chihuahua we have ever seen.
We call her "Nillie" 8) She is such a girly dog, loves having a bow on and taking a picture!
Ill send a few photos for you to view!
Thanks! Have a wonderful summer!
-Malorie
Gotapuppy.com ,

I havent given you an update in awhile since I was busy with a death in the family then had surgery. I have been out of state for a month then in recovery from surgery for 2 months. Busy busy.

But I wanted to let you know that I took America to the vet yesterday for a check up to make sure she was still doing great and she is. =) The vet couldnt stop gushing about what a sweet and mellow puppy she and she is just that. She is a perfect little sweety and we adore her. Her check up came out 100%.

She has grown a lot. She was so tiny now she is so long/tall. Still positively adorable. Xmas came a bit early for her this year although I am doing to buy her a stocking and some more treats but we got her a bunch more new toys, some more cute dresses, and new pink designer carry bag, and some more bling for her little collar. She is definately one pampered little puppy.

I owe you a great amount of gratitude for bringing such a sweet, happy, and healthy puppy into our family. We can never thank you enough. You puppies are the best and we are so thankful that we chose to get one from you instead of a local place.

Thank you again and I will try to get some more current pictures to send along to you around Xmas time when my hubby is home.


Crystal (America's Mommy)
To: gotapuppy@hotmail.com

I am not certain where to begin. I am not sure if I should start with how satisfied I am will the purchase of my new Chihuahua, or how PERFECT the transaction is from start to finish.

I googled teacup's and ran across millions of adds for purchasing a new family member. Either the adds were old, didn't have enough information, or I didn't receive a trust worthy vibe from the sellers of the pets. This continued for an estimated 3 months. I gave up searching for about 2 weeks, because I became anxious and figured I would settle for purchasing what was closest to my ideal Chihuahua. I googled once again and some how landed on www.gotapuppy.com. I went through the website, and with all of the scam activities online, I was very hesitant with making a purchase.

I called the number listed next to a 4lb Chihuahua named Sandita. Hazel eyes, tan and white, female, DOB 12/6/2007. My first concern was why she hadn't been sold, and why was she so inexpensive. After speaking with seller, Melinda, for numerous days, I felt confident, excitement, and SECURITY in purchasing a pet from her. She didn't pressure me, and she made me feel assure that I was going to be satisfied. The transaction was prompt, and efficient.

Sandrita arrived to RDU International Airport August 20, 2008, @ 8:20. She arrived with food, water, and all of her paper work from the vet, as well as her tags for her shots. I have never been more satisfied. I just purchased an $800.00 purse and I was not near about as happy as I am with my name baby!!

Melinda, you are amazing. You

Dionne J. L
Bryanna B
Thanks for the update. gotapuppy.com. I agree with you he is very cute.
We changed his name about a month ago to Louie...because he is the colors of Louis Vouiton purses...He is already used to it...he will come to both names rocky or louie, lol...He is sooo cute!!...he has the best personality and potty trained very fast...he loves playing with his two favorite stuffed animals...My other dog had a puppy on July 1st and they are like brothers now... he even gets along with my big dogs outside...he likes to sunbathe...and he loves to chew up paper( i dont mind) and shoes( i do mind that:) )...he loves sleeping with his momma!! (me)... He runs to me when he is scared...i love that... He is like my own son...this is just an update!!!....thank you so much for this little boy!!!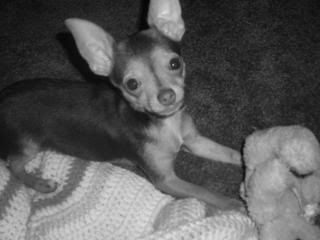 MY little louie!!!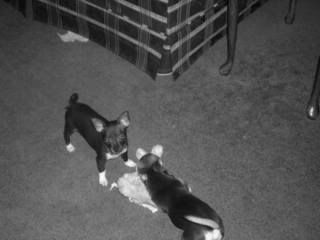 This is him and his "brother" We call him Puppy... playing with on of their favorite toys...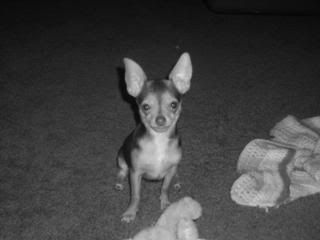 HE is SOOO cute!
---
Luggage? GPS? Comic books?

Check out fitting

gifts for grads

at Yahoo! Search.


I DON'T KNOW IF YOU REMEMBER ME, BUT I BROUGHT A BROWN POM FROM YOU IN MAY. I JUST WANTED YOU TO KNOW THAT HE HAS ADJUSTED WELL TO HIS NEW HOME. HE IS MY SHADOW, MY BEST FRIEND ALREADY. WE TAKE WALKS AT A LOCAL PARK, AND HE IS JUST A WONDERFUL DOG. I HOPE THIS EMAIL GETS TO YOU, AND THAT YOU GET THE PIC WITH IT.


THANKS ALOT, ANITA GUERRA
Wrote 12-23-06
Hi. I'm Takafumi Saito.
Do you remeber me??
We met at airport when I trid to send my cat, teki, to Japan.
My cat arrived in japan and my family is taking care of her....
and I wanna say thank you to give me advice and change your box.
I'm gonna go around south america and I'll show you my pictures.
Have a nice Happy Merry Christmas!!!!!
---
ニュース、天気、エンタメ情報など、好きなコンテンツを集めて、自分だけのページにカスタマイズ。
Live.com をぜひお試しください。
Wrote Oct 2, 2006
Hi Gotapuppy.com,
Remember me, the one that gave you all of the grief over the white puppy you called sugar and everything sweet!
Tami from California, well, I have been meaning to e-mail you first to appologize for freaking out and secondly to let you know that our little koko has grown to be a beautiful little dog.
As well, as having he sweetest personality!!!!!!
Her and herf sister Kiki love each other, thank you for putting up with me and for outr little koko!!!!
Tami
Tami Mattos
Wrote Sept 17. 2006
Gotapuppy.com,
I just wanted you to know that Koko (in lieu of " Cocoa " so it's been decided – explanation to follow) is adapting well to his new home and family. Yes, he misses his mom and dad quite a bit, but his surrogate grand-poppy (Chi-Chi, our pom) seems to be taking a parental interest in him. Despite my wife, Mia's vow to "not spoil" Koko, it's begun already, as we've spent more on accessories than on the purchase itself.
The variation on the spelling of Koko comes from two sources – my wife and I met in Hawaii many years ago, so this gives it a Hawaiian flavor to the spelling. Also, her maiden name is Koo – so Koko becomes a close relative.
Thanks for the care you've put into rearing Koko and the undoubted forthcoming years of enjoyment.
Sincerely,
Scott P
Hello Gotapuppy.com,
So how are you doing? doing good here. This is diane up in NY. Oreo is doing great!! He loves everyone and is happy to see my mom when she comes across the street. He love our mail lady and also love my grand children. I found an apartment right across the street so i will be moving in about a week. Of course my grand daughters will stay w/me on the weekends and i'm not moving far where they can't see Oreo. He is such a joy. He doesn't like a couple people and barks at them. When he barks he usually wags his tail to let them know they can pet him or play with him. He is so smart and loves to run. We keep a collar on him when he is on the porch so no one takes him cuz he is so loveable, everyone wants to take him home with them. I have enclosed a few pics so you can see how he's grown. i'll be sending more soon after i get my new apartment settled. Thanks so much. I am so glad that i found you online and he is such a joy to have around.
Sincerely,
Diane L, Buffalo, NY
Wrote: 07-19-06
Here is one of the updates for your family,
I did a search for your daugter's email address today but could not find it. Will you please forward this to your grandaughter for me.
Hello there,
I am the lady who adopted your Miracle Puppy.
Miracle has bought me so much happiness and fun. My kitties are playing with her now too.
Five days after she arrived at the DFW Airport we began a 3500 mile road trip with Miracle. Our route was Kansas, Colrado, Wyoming, South Dakota, back through New Mexico. and home to Texas.
Miracle went everywhere that she was allowed to enter. She even got to sit in an out door resturant in South Dakota.
Miracle is a real people megnet, My husband loved showing her off and getting to meet a lot of very nice people. She is always so happy to meet anyone, but she absolutely loves kids. She was more excited to see kids than adults. on the trip. Of course there are people who do not stop and pet her. When someone does not stop, Miracle does not understand and gets a disappointed look about her. Frankly I don't understand it either. How can anyone resist such an adorable baby?
We are home now and I still take her everywhere I can. I love the way she sits with me when I watch television. She is my constant companion always makig me smile and laugh. .
She is too fast foir my husband and I to catch. It takes both of us to finally get her.
She is also a smart little thing too.
I always have so many puppy toys covering my living room floor. I put her crate that she came with on the plane in a corner in my living room which is a rather large room. This is where her toys and chews are sopposed to stay stored. Miracle always drags every thing out several times a day. Oh well, why should she be any different than any other baby.
Loves to play tug-o-war and fetch. In the back yard she will run a large figure 8 pattern around me the the cat. I wish I had that much speed and energy.
I am going to send another email with a few pictures of the two of us.
You take care,
Best wishes and thanks so very much for my new companion.
Mrs. Airhart.
5-9-06
Reference: I just bought a Jackchize puppy from Melinda a week ago. I named him Cody. I wanted to thank Melinda for giving me a chance to own such a wonderful little dog. He is just the sweetest and most lovable puppy I have ever seen. I am a vet technician , and I have seen and worked with alot of different puppies, and Cody is one of the most well adjusted puppies I have ever seen. He just loves everyone he sees and is always willing to give them a big wag of his tail along with a kiss. I would highly recommend a Jackchize puppy from Melinda, for she does such a wonderful job with them and you can tell that her puppies get alot of love from the start, just by the way they act. Thanks again Melinda and feel free to use me as a reference anytime!!
Michelle
Hello, Gotapuppy.com, from Lily in Norway !
Do you remember me ?
I will tell you everything is going fine here.
Best regards
Lily and Nan
Message posted 4-30-06
(This little girl is a model for a well known pet store in Norway.)
She models top of the line clothing from world wide known designers.
This is proof Chihuahuas can get along with cats.

Keith M. wrote: 2-15-05
Hi Gotapuppy.com!

I wanted to let you know we love, love, love our Jackchize! He is a little lover!! He is wonderful with my 4-year-old and 9-year-old. He loves to run around and play with the kids but also loves to sit on our laps and cuddle! My family is so happy to have him around!

Thank you so much!

Elizabeth Martin

Maria R> wrote: 1-26-06 (Norway)
Hi Gotapuppy.com.

We just came home from the airport about one hour ago.
Tiny Texas is now sleeping in Andreas' lap, she is
quite exhausted. So she hasn't taken time to sniff
around even, just fell asleep... :)

It was so wonderful to finaly have her home, since we
have been waiting for her in 5months now it almost
felt like taking our baby home from the hostpital, not
from the airport, and she was airbourne you know..
hihi
She impressed all the people working at the airport
and the vets.

And I must say Melinda, she's the moust beautiful
puppy ever, I can't belive that at chihuahua could
look soo good. :)

Thank you so much for beeing so sweet and patient with
us during this 5months while we've been asking all
kinds of questions and naging about new photos and
weight all the time.



Lots of love,
Maria, Andreas and Tiny Texas

Check out the homepage http://tinytexas.com
wrote: 1-09-06
Gotapuppy.com ~
I have a few words for ya. IM so glad we got our new pup from you. You really touch our hearts. Kayce her new name she is very smart,playful,and the most lovable dog I have ever owned. I would nominate your company to anybody. You can tell that your pups have been taken care of really well. Well, I have to many words to say how pleased I am. So to keep this short i thank you dearly, and we will keep in touch, and ill send pictures very soon of her. ~THANK YOU MELINDA~ Your friend's Ashley & Kenny......<3
Dawn wrote: 1-08-06
Dear Gotapuppy.com,

I just wanted to let you know we just love our little puppy, you called him not a mistake, my son named him rocket, and he really lived up to his new name. He is a great little puppy, he had just a wonderful personality. he loves all people and other animals. He is very smart. You can really see the chihuahua in him. I'm guessing he's half chihuahua and half pomeranian. Even though he is the smallest dog in my house he doesn't know that, he and my aussie are the best of friends. I don't really believe in the new craze of mixing pure bred dogs like jackchis I think you called them, but I believe I would get another pom chihuahua mix someday. Thankyou for letting us have this wonderful little dog. He is really something else and we love him dearly. Thankyou Dawn Greene
Andrea Fraley wrote: 12-20-05
I was writing to update you on me and Bailey (I had to change the name Bella to Bailey since my best friend had already got a Chihuahua JUST the week before I did and named her Bella!!)

But anyways!! I just wanted to let you know how I am SOOOO in love with her!! She has turned out to be the sweetest little dog--she is friendly to EVERYONE!! She's never scared or timid at all...not even of great big dogs!! She'll go right up and lick them on the nose and try to start playing with them!! She is my little companion and comes EVERYwhere with me!! (literally) She is SO good and always quiet... i can take her with me to my classes or even the library!!... she has a little Juicy Couture dog carrier and loves it!! She is almost 8 months and weighs about 4 lbs now. I am sending pictures of her... some are of her playing with my friends chihuahua Bella--which is her BEST friend!! :) And there's also a Christmas one of her in a santa outfit!! :)

Hope all is well with you... Let me know what you think of the pictures!! :)

I couldn't be any happier with my puppy!! Thanks for everything!!

Andrea
Scott and Marci wrote: 11-13-05
Jacy the JackChize has arrived in Ohio!

We just don't know where to begin to thank Melinda for the wonderful experience we had buying our puppy from gotapuppy. We started out looking for a chihuahua for a Christmas present for our three kids, when we came across Melinda's website. We made a call and talked to Melinda and decided to purchase a Jack Chize puppy instead. She did a great job matching the type of puppy that would be best for us. She is dedicated to finding each of her adorable babies the best possible homes. Melinda was always friendly and willing to help whenever needed. Trust in essential, but sometimes hard to acquire when you are dealing over the internet. However, Melinda has a way of gaining your trust every step of the way. She even called to check up on the puppy the day after we picked her up from the airport. She definitely is a caring and kind person. It shows in her puppies because our puppy, Jacy, is the most well adjusted and healthy puppy. We are so happy that we stumbled across her website because she has made 3 small children very happy for the holidays. The next puppy I purchase will no doubt be a gotapuppy. I would also highly recommend anyone that wants a gorgeous sociable puppy to consider one of Gotapuppy's cuties! Thanks again Melinda for the most adorable puppy ever, and we will send pictures soon.

Take Care!

Marci
jodie wrote: 11-13-05
I had been searching for the "perfect chihuahua" for months. I had been through so many scams and dishonest people UNTIL I found Melinda.. I bought Rose from her and she is the most beautiful, well adjusted, perfect Chihuahua I ever ever met! Melinda put SO much time and effort into talking to me and all my phone calls and emails.. She even got my baby spayed for me I am so impressed with her and her dogs.I know how hard it is to buy a pup on line, but TRUST me, she makes it BEAUTIFUL ( there is no other word for her kindness and service and her fun, friendly perosnality!!!) With all my heart I appreciate everything she has done for me. Words can not put describe what a wonderful, honest and caring person she is,, Anyone who buys one of her pups would be thrilled and lucky to own such a wonderful dog. Thank god Melinda and gotapuppy.com exisits, in a world of internet scams and uncaring breeeders Melinda ia a bright shinning star that outshines the rest. She CARES about the dogs and finding the perfect home for them rather than the money. She is a rarity and a gift to the world of puppies. If I could I would buy every single chihuahua she has!!! I cant wait for my next baby, which will be a gotapuppy.com baby!! To sum up, I know how hard it is to buy a dog online.. I know all the scams, and uncaring breeders.. Rest assure when you buy a dog from Gotapuppy.com you are buying a dog that is helathy, sweet and well adjusted. You are buying from a breeder who loves her dogs and her customers.. She will help you and talk to you.. She wants to make sure you are happy and her dogs are happy.. How much better can you get?? Thanks Melinda from the bottom of my heart.. I LOVE Rose so much already. it is like she has been here for a year!! And thanks for being the caring, wonderful person you are!!! you made my YEAR !!!
ducky wrote: 11-13-05
"I started the search for our puppy w/ a budget & no luck. Then this gorgeous puppy caught my eye. His name was Pedro. I read his profile & decided to call . Now here830-876-9326 I am 4 DAYS later & I have that same gorgeous little puppy in my arms. Calling her was the best move I could have made. She is the sweetest person. She does not treat you as a customer, she treats you as her friend. I was very nervous about buying over the internet & having a puppy flown to me, but she helped me every step of the way. Answering every phone call I made to her & took the time to get me the answers I needed. I picked him up from the airport & brought him home. He is the cutest puppy, perfectly healthy, & more than I could ever ask for in a dog. I would reccomend Mel & her puppies to anyone.
To Gotapuppy.com,
Thank you so much for all of your help. We love him so much! It's so cute watching him & the cats trying to figure out.


TERI Wrote: 10-7-05
Click to play sound: Small Dog WELL I WANTED TO WRITE AND GIVE YOU THE LATEST ABOUT OUR PUPPY . HE IS DOING WELL ,,,, HE IS A LIL BALL OF ENERGY HE RUNS CIRCLES AROUND MY ROTTWEILER , WHICH DRIVES HER CRAZY SHE IA ABOUT 9 SO SHE CANT KEEP UP WITH HIM WHICH I THINK HE KNOWS !!... HE RUNS UP AND BITES HER BACK LEGS LIGHTLY AND RUNS . HE A LIL HIT AND RUN MAC TRUCK . HE IS DOING GOOD WITH TRAINING HES GOING ON HIS PEE PEE PADS WHICH IS GREAT ! HE DOESNT LIKE TO TRAVEL MUCH BUT IM TRYIN TO GET HIM BETTER WITH THAT . AT NIGHT HE LAYS CURLED UP WITH MY HUSBAND , BUT AS SOON AS I GET IN BED HE LEAVES HIM AND COMES TO LAY NEXT TO ME ,,,, HES A MOMMAS BOY !!!! MY MOM EVEN LIKES HIM AND PLAYS WITH HIM AND SHE DOESNT CARE FOR ANIMALS (SHOCKING) ....SHE CALLS HIM BANDIT BECAUSE HE GOES INTO THE BABIES ROOM AND GRABS THE TOYS AND KNOWS HE HAS SOMETHING HE SHOULDNT AND HE HAULS BUTT TO GET DOWN THE HALL BEFORE ANYONE SEES HIM ,,, HE GRABS THIS BIG STUFFED ANIMAL THATS 5 TIMES HIS SIZE AND RUNS DOWN THE HALL TO BRING IT TO HIS ROOM BEFORE ANYONE SEES HIM HES SLICK !! WE NAMED HIM MAJOR JAKE , HES DOING GREAT AND WE LOVE HIM VERY MUCH I WANTED TO SAY THANK YOU AGAIN FOR ALL YOU HAVE DONE AND THANK YOU FOR OUR LIL BOY !!! TERI P.
10-07-05

Hey gotapuppy.com:

Just wanted to send you some photos of Happy Boy (he is now known as Charlie)-

We bought him from you in July this year.

You sure named him right – he is the happiest puppy we've ever seen.

He is sweet, smart and oh so cute and eager to please. Everytime we walk him around the neighborhood, everyone wants to know what kind of dog he is and where we got him. As a matter of fact, a man around the corner from us said he bought a puppy from your website in August (he claims it is the same color as Charlie).

Our vet can't even say for sure how big he'll get, but we think he's done – he grew extremely fast over the summer and is now a whopping 5.9 pounds.

Anyway, wanted to let you know that we love him to death – he couldn't have found a better home with two women living with him.

Jillian R
Monica C. wrote: 9-06-05
Hi again Gotapuppy.com! I'm sorry I could not call you back. The reason my
mother got so upset was because we do not have long distance with our
phone plan, and she usually uses a phone card when we call long distance
to family in Costa Rica, because it is usually never that often. (And
not to mention my phone bill hasn't been very low either!) I will make
sure to buy a phone card tomorrow so I can keep in contact with you. I
love the puppy you showed me, but I can be stubborn for unknown reasons
and have my heart set on a tiny brown tea cup like cuppacino boy and
rachel (I would prefer a boy). I'm sorry if I sound so demanding, this
is my first puppy and if only you knew the amount of websites I have
been to, only to fall in love with yours! You seem to care a lot about
your puppies and I think that's really important. So please keep me in
mind. I will talk to you soon!
Best Wishes...
--Monica


Shannon W. wrote: July 31, 2005
Hi Gotapuppy.com,

In case you didnt get my message I left on your machine the other night I thought I would drop you a note and let you know the puppy (we named her Butterscotch) is doing great! I wasnt able to get her into my vet exactly 24 hours after she arrived, but close. She came Wednesday night and I got her in Friday morning. Butterscotch has an appointment August 17th to get her booster shot. She is eating and drinking regularly and the vet said she looked really good. She's already learning to do her business outside! She is very sweet and smart and we take her everywhere we go she is our little baby! Thank you again for all your help, we couldnt be happier.

Shannon
Jack

wrote: July 30, 2005
mel

he's here and he's doing great....love this puppy....still calling him Jose, may keep the name, we kind of like it....

Continental did a great job, just wanted to let you know....

Thanks again

Laura
Dear Gotapuppy.com,

I have a lot of faith in you. You will do just fine. Even though puppies can be really hard to deal with, you have the skills and patience to do the job well. People that buy puppies from you will see the difference in the temperaments and will refer you to others.

I have been an animal lover all of my life and know only certain people can do this job. It is not for everyone.

I had done an experiment with a litter of kittens 14 years ago. I rescued a mother cat that had a litter of kittens. When I rescued her she was very pregnant. She became very attached to me fast and would only come to me. One morning I woke up to get ready for work and found she had her babies right next to me on my bed. YUCK! I am a heavy sleeper and had no idea she was giving birth right next to me.

Well, I was curious to see what would happen if I handled one of the kittens more than the others. "Stripey" one of the tabby kittens was held by me for 30 minutes, 4 times a day. I pet him, carried him around, and played with him constantly. I also had him play with other cats and my pet dogs. When they were old enough to be weaned from their mama, Stripey became the most affectionate. He loved people, kids and other animals. He had no fear of anything and was extremely mellow.

His brothers and sisters were nice, but nowhere near as lovable as he was. I found homes for them, but Stripey stayed with me. I never saw a cat that was as smart as he was. He was trained to go to the bathroom on the toilet, and he did tricks!!

He also went out with me everyday on a leash. He actually walked around like a dog, and all of the neighbors laughed at how funny it looked that a cat was walking on a leash.

He died of old age, but was one of the best cats I have ever owned.

I have a feeling all of the early interaction was the key to all of the affection and intelligence he had.

I miss him so much. He was a great animal.

You have lots of love to give, and I know that with early interaction all of your puppies will become to be the best pets out there. We need more breeders like you, who really care about animals.

My mom is looking forward to having the pick of the litter of Pomeranians. We can't wait to see pictures.

I am also going to be referring you to others looking for great quality puppies.

Believe it or not my mom's pitbull named Bruno died a few months ago. She had him for close to 14 years. He was rescued off of the streets by my step father Joey. Bruno's mother was living in a burnt out lot in a bad section of Brooklyn, NY. She had so many puppies that she stopped feeding them all. Joey took the runt of the litter home. He was a red nosed pitbull. He was so tiny and helpless. We all took turns feeding him with a baby bottle and he was nursed back to health. He grew to be a big healthy pit bull. He was so sweet and he looked so cute because we did not clip his ears. They were floppy.

He had such a sweet temperament and would never hurt a fly. People would comment and mention that these dogs were vicious and we should never trust a pitbull. We did not listen to them. These dogs have gotten such a bad reputation. Did you know that the dog that has the most bites recorded against humans is the Cocker Spaniel and not the pitbull?!

My mom was looking for another pitbull even though Bruno could never be replaced. You should see how many you can get for free here in NY. They are in shelters, and also roam the streets in Brooklyn. However, when my mom met Samson she fell in love with him. She usually likes big dogs, but Samson showed her he had a big dog's heart and soul. I am hoping that she gets a Pomeranian puppy from you. She said she can't wait to see pictures of the Pom puppies you have.

I am so sorry for talking your ears off.

Good luck with the new breeding program. You will do wonderful.

Your friend,

Deanna
Toni D. Wrote : June 27, 2005
Dear Gotapuppy.com,
I just want to say that you are a wonderful breeder that deserves a lot of compliments. I always wanted to own a Pomeranian and you made my dreams come true. You were extremely knowledgeable, patient, helpful, and bent over backwards to get our new puppy here quickly. I enjoyed speaking to you on the phone and enjoyed all of our conversations.
I also like the way all of your dogs and puppies are kept. A lot of breeders do not care much about their dogs and only view them as money commodities. You care for all of your animals deeply and give them the best care. You truly love what you do and it really shows.
Our blue Pomeranian puppy Samson, was very socialized, lovable and great with my two toddler daughters. He was fully potty trained within 3 days. His temperament is lovely. He loves to go for rides in the car with us and is friendly to other dogs and people he meets along the way.
He is very healthy, happy, beautiful, sweet, and we really love our new furbaby. Thank you for giving us this special dog.
By the way my mom wants one of your Poms too
.
Best wishes,
Deanna K and Family
Next Day Pets >

wrote: June 5, 2005
Great News! Your website (gotapuppy.com) has been recognized by NextDayPets.com and awarded the 'Cool Pet Site of the Day Award'.

How did my website win? Your website is related to dogs, pets or pet supplies and either a visitor to your site submitted it to be considered for an award or your site was reviewed by NextDayPets.com and considered 'Cool'.

Proudly display the award throughout your website for all your visitors to see that your hard work and dedication is paying off.
curtis s. wrote: 5-31-05
Gotapuppy.com,

Wanted to pass on an update to you... As of his last visit to the vet he is
weighing in at a monumental 2.1 lbs... We've had a few of our friends visit to see him and he has such wonderful, spirit, his tail doesn't stop!
It was really cute to see him interact with other dogs; when we took him to
the park there were two dogs roughly three times his size playing fetch. The
dogs wandered over to where we were and he was in heaven, after the initial
sniffing he wanted to be part of the big dog gang! That's when we realized
we need to get him a playmate... I can't wait for your next litter... We are
very fond of the maltipoo breed but yorkipoo's, and shihpoo's would also be
very welcomed!
Thank you again, and we look forward to your response.

The Stanley's


Dona W. wrote:5-31-05
Just wanted to let you know how well Annie is doing. For the first week, I was really wondering & getting very frustrated but then she started catching on to the potty training. I'm training her to a puddle pad & that is much harder than the outside, where she could run around & do her "business".

She is very smart, Tommy is working with her on tricks all ready!! She goes shopping with me-----I got her the cutest pink puppy bag to carry her in. She is tough----barks at the big dogs----it's so funny. They are scared of her-----I think it's because she's so little.

Lola, Sunni's puppy is doing wonderful. Her boys love her & so does her husband. She had her baby Fri. morning-----they are home & doing well. We have a lot of fun watching Lola & Annie play-----Lola attacks Annie & then she turns around & just gets Lola good.
"(N)HoneyHills in Norway wrote: 5-30-05
hello Gotapuppy.com

Lily is doing very well , she has found her place among all the other animals , both dog and cats.

she was very tired the first days, but now she is running around , exploring the house.

she is very cuddly , sleeping in the middle of our bed.

but she thinks it is cold here...she freeze outside and goes quickly inside.

we try to dress her up , so she dont freeze so much , but she dont like to wear cloths to much..

she is a very secure dog , not afraid of anything , we like her temper a lot !

she likes to sit on the arm , or lay down on top of us in the sofa.
curtis s wrote: 5-19-05
Gotapuppy.com,

We are so happy with our little bundle of joy! I was hoping that we could
purchase another one from you as soon as you are able to receive a new
litter. Please let us know! Thank you again!!

Curtis & Desiree


Wrote: 05-2-19-05

Hi

Gotapuppy.com

,

Hercules is 2.2lbs at 6 months.

HE WAS NEUTERED AT 3 MONTHS AND IT WAS SUCCESSFUL, HIS HEALTH CHECK IS ALL GOOD.

HE IS VERY SPOILED; TODATE HE HAS OVER 15 OUTFITS, 4 DOG PILLOW, SPECIAL SHAMPOO'S,

3 DOG PURSES FOR ME TO CARRY HIM AROUND, LOTS OF JEWERLY, ETC.

I PUT HIM IN MY REGULAR PURSES AND HE GOES EVERYWHERE WITH ME, DOCTOR APPT., SHOPPING, TRAVELS, WALKS ETC.

I CAN'T IMAGINE LIFE WITHOUT HERCULES, HE'S MY LITTLE BABY….

THANK YOU FOR PROVIDING THE BEST CHIHUAHUA.

FROM VERMONT,

GINA
Wrote 5-19-05
Hi Gotapuppy.com,
                  
                  My name is Patti Pribish. I bought one of you JRT/ Chi puppies for my 
                  husband for Valentines day. Sophie our puppy is doing great. My friend 
                  watch her recently for me and is in love. She would like to get a 
                  female 
                  Jack/Chi puppy this fall. Will you be having more available.
                  
                  Thanks,
                  Patti Pribish
                  
                  
                  Pittsburgh, Pa
                  
Melissa C wrote: 4-26-05
Hi Gotapuppy.com,
We decided to name him Turbo in the end. He is adorable and I
currently work at a kiosk at the mall that sells miniature dog clothes
so he is decked out. Attached are some pics you can feel free to use
on your site. My husband has been sent back to Iraq for his 2nd tour,
but he and I are both very happy to have Turbo in our lives. He is
adorable and USUALLY on the best behavior. He is really bright and has
learned commands like sit, and paw, and high five. He was also
littertrained in an amazing short time of about less than a week. He
is so smart and he is never phased. If he falls off the bed, he just
jumps back up and his tail is wagging again. :) Hope you enjoy the
pictures :)

--
Melissa Chen
Pre-Law Society Secretary, UMBC
Political Science Major

1/2 of My Heart is in Iraq

Stina.M.P wrote: 4-26-05
Hi Gotapuppy.com,

I just wanted to let you know that I received Moxie's papers today. Thank
you so much for everything! I had an awful experience with a breeder right
before I found you and you really helped to put my mind at ease. It was
good to actually get to speak to someone on the phone for a change. You
really went the extra mile getting a blood test done for me to ensure I was
getting a healthy puppy, that's hard to find, especially in an out of state
breeder. I would recommend you to anyone looking to buy a puppy, and plan
on buying another one from you myself! Thanks for everything, keep me
updated on upcoming puppies!


Thanks,

Stina P.


Cheryl M> wrote: 4-18-05
Hi Gotapuppy.com,

Everyone just thinks Angel is the sweetest little girl. She is so beautiful and such a little love bug. We have a fence around our back yard and she just runs around - we call her white lightning!!!!! She gets along very well with our other pom - they are too cute together. I can't tell you how much we all love her. Thanks for such a great puppy!!!!

Talk to you soon,
Cheryl


windy wrote: Date 04-04-05
Dear 830-876-9326
Hi Gotapuppy.com,
I hope you don't mind me emailing you, but I just wanted to let you know I think you have a wonderful web site and you seem to be a very reputable breeder. I am just starting out, Ive got 4 poms that live in my "puppy condo". They are all still young because I chose to buy them as puppies and raise them as part of the family. I really want to increase my breeding program and have several other breeds. I'm looking into building a small kennel in the near future. Anyway, I just wanted to stop in and congratulate you for having such an awesome breeding program and I hope that one day I will be able to be really professional like you. I love my fur babies so much!! BTW, how many dogs do you have?

Thanks for your time,

Laila


3-15-05
Janet L
Hi Gotapuppy.com!

Thank you soooo much for the sweetest puppy ever! I took her to the vet and even HE was surprised at her great temperament!

She got her 3rd parvo, distemper, etc shot today. I will fax you the vet papers and contract when I get into work tomorrow!

She's very independent and has jack Russell tendencies(she can REEALLY jump!) she's already housebroken for some reason(she sleeps in the bed with me and when we wake up she bolts outside to do her business =) and she's SO loyal!

Thank you so much!

Janet =)
3-2-05
Dear gotapuppy.com-
                  I just wanted to tell that the min pin chihuahua mix puppy that I got 
                  from you
                  is so great.  She is so loveable and melow.  I wanted to tell you that 
                  you
                  should have more min pin chihuahua puppies cause I know a few people 
                  that want
                  one.  I wanted to send you some pictures of me and bue for you website 
                  if you
                  would like to use them.  We did an ad for a dog store in Reno so here 
                  are some
                  pictures from the photo shoot.  THanks again.
                  Christina Napier and Bue
2-26-05
Patti P. wrote:
Hi Gotapuppy.com,

I wanted to give you an update on our puppy, the Jack Chi mix. She is
doing GREAT. She arrive here in Pittsburgh right on schedule and was the
focus of attention over the other puppies at the cargo pick up area.

The family loves her and she is the best present I ever got my husband.
We have named her Sophia which means wisdom, we call her Sophie.

Blessings to you in your wonderful puppy business,

Patti, Buddy and the kids

Cheryl M> wrote:
Hi Gotapuppy.com,

Just wanted to give you a quick update - the puppy is doing great! She
came to work with me today and everybody just loved her. She is the
cutest little thing. Thanks for sending me the picture of Duncan.

Thanks

Cheryl
2-20-05
Hello,
Just wanted to let you know that Paquito arrived as planned and all is well. He is even cuter than we imagined. You can rest assured, he will receive plenty of love. Thank you so much!
James
2-15-05
Amanda M.> wrote:
Hey Gotapuppy.com!

Sorry it's taken me so long to get back to you but I've been so busy with the new puppy haven't really had a chance to get away from our new bundle of joy!! I just want to thank you so much for making this such an easy and wonderful experience! You were great and made me feel like we had know each other forever! We received our new puppy early Wed. morning and he was so happy to see us! I took him to the vet and she made the commit that he must have been taken very good care of because of his attitude already! She said she had never seen such a happy puppy that early on being switched from his environment! And she said that has to be because of the wonderful care he had received! So thank you so much for our new healthy baby!!!!

Thanks again,

Amanda Metz
2-9-05

Terry k. wrote:
Hello Gotapuppy.com - Wanted to give you an update on Zoey....

She had a vet appointment today and weighed 2.8 pounds. She is getting
longer and taller but is still to us as small as ever. She is beautifully
proportioned and we get compliments on her every where we go. Zoey is full
of energy yet at the same time loves to cuddle. We love having her as a part
of our family and are so happy we found her. She was by far the best gift my
8 year old received for Christmas and she continues to make us all smile and
fill our hearts with love every day. Just thought I would let you know how
well she is adjusting and how loved she is. I hope this finds you well and I
will ask Terry to download some more pictures for you soon :)


2-08-05
:
Hi Gotapuppy.com,

Star is so dang cute! I'm sending you a pix that was taken just this week. One is of one of my dtrs that you didn't talk too. Next update, I'll send you pix of me with Star and my other dtr with Star. The other Chi with Star is 7 months old. Star is still just little.. She goes to the Vet 02/01 and I will give you an update, weight etc. Cindy Patterson
1-22-05
wrote:
Hey Gotapuppy.com,

This is Caitlin. We just absolutly love Spunky. And trust me, he is VERY VERY VERY Spunky!! He is running around everywhere and chaz loves him to death. thank you so much. Today he is going to his 3rd vet's visit. (he hates getting his temperature taken). He is also getting a new bed today. I am going to put it in my bedroom. He loves to cuddle. And when i walk he just jumps on the back of my legs all the time!!! and when we play try and get caitie (we run around the house together) he barks!!! and he has the cutest bark. well i have to go take spunky to his docter. My mom will give you a picture of spunky on her account, because i can't. thanks again.

Love,

Caitlin
1-12-05

Happy Customer wrote:
Hi Gotapuppy.com,

Just wanted to thank you and your husband for a great puppy. Who would have thought a Jack/Chi mix would be so adorable. We have decided to name him Teddy and when my 5yr old little girl opened her eyes this morning to see him she was in awe, what a great surprise for her. She just adores him as does my 2yr old son. He slept with me and my husband last night, we cant believe how little he is. He is truly the missing link to our family. You did a great job with the shipping and he came to us happy and healthy. I will get pictures to you as soon as I can and keep you updated on his progress. Your site is fantastic and so are you. You really made this quick and easy. I would highly recommend you to anyone looking for a puppy, and if we ever look for another we are coming to you. Thanks again.

love

Peter, Renee, Hailey, Peter, & Teddy P.
1-05-04
Lidya P. wrote:

Hello Gotapuppy.com,

We like to wish you a belated Merry Christmas and a happy new year 2005. We wish you and your family good health. May you be blessed with happiness in the new year. That also goes for your pets too.

ps. If ever we wanted to get another puppy, we will think of your first.

Much love from us,Lidya, Joseph and Mochie
1-3-05
Hi Gotapuppy.com! I just wanted to let you know that Gracie is doing terrific. She is 6.5 months old and about 4.5 pounds now. She is such a sweetie too! The reason I am e-mailing is because I am thinking of buying another puppy for myself. I am looking for a female around 3-4 pounds, preferably long hair but it doesn't have to be. Will you be getting in any more chihuahuas any time soon??
Thanks,
kelly
1-2-05
Hi Gotapuppy.com,
I just wanted to say that Cody (aka: Too Cute) is doing so well. He is just the cutest friendliest puppy I've ever met. As I am writing, he's is sleeping on my lap. Thank you so much! Cody and I send our love. Here are some pictures of Cody out and about.
Sincerely,
Cody B and Stephanie
Hi Gotapuppy.com~
I hope all is well,and thank's for the tip's on how to care for Nikki....she is doing very well. Although she is totally hating the cone around head, She is doing pretty good dealing with it.We will take her back in two week's for her re-check. Take care ,and have a Merry Christmas. Nikki send's her love.
Love in Jesus
Christine
Christine T

"All Thing's Are Possible through Christ Who Strengthen's Me"
Dec. 21, 2004
wrote:
Tomorrow would be fine. I was going to go out of town this week but i am not able to get off work so you can ship him whenever your ready. What food have you been feeding him and how much and often should i feed him because i know about the health conditions that can develop when they are young. Also i just wanted to take a moment to thank you for all of this. I have never dealt with anyone so caring before about the purchase of an animal. I have purchased from a few breeders and you are just wonderful. Thank you so much for everything. Also my friend is looking to purchase a yorkie so i will tell him about you and the one you have on your site. Thanks again


Adam M.
I'll be talking to you soon.
Kathy W wrote on 12-15-04
Gotapuppy.com,
I am sorry I have not called you yet. I have been so busy with Daisy and the kids. She is wonderful and adorable, we all love her. We just came home from the vet a little while ago and he said she was perfect. I am very happy with her.
Thanks again for everything.
Kathy
Hi Gotapuppy.com~ 11/14/04
It has been wonderful doing business with you, when my family, and I decided we wanted a Tiny Pom, I began the hunt !!! I spoke with many, many people,and despite the beauty of the puppy... If I didn't feel comfortable I moved on, but God answered my prayer's, and you answered my your phone.
You, are definetly the most professional,
and, caring. Thank you soooooooooo much for the sweetest most loving
puppy ever.... she is so friendly, and just love's everybody, I know
you gave her ton's of love,and affection. Thank You! Thank You!
I will call you when we are ready for our next puppy.
Nikki Texi T,
send's her love .
Love,
Christine T

"All things are possible through Christ who gives us strength"
<Customer > wrote:
I just wanted to say how happy I am with the long-haired Chihuahua I bought from Melinda. I have to say how impressed I am with the puppy I received. When I got her she was healthy and well taken care of. She was playing with me, my family members, and my other dogs the night I brought her home. I can't believe how well she adjusted to her new surroundings. I have not had any problems with her health at all. My little Gracie was responding to her name within the first day and even knows how to sit! She is a very sweet, loving dog, which can only be a result of receiving lots of love and kisses as a puppy. I would not hesitate to buy another puppy from Melinda and I would recommend her to anyone. Thank you so much for my little angel!

-Kelly S

This puppy went to Tampa Florida. God Bless everyone there. We know it has been hard on them with the weather situation.

9-15-04 Gotapuppy.com
Tracy Edrighton, From Collinsville, Florida wrote.
Hi Melinda,
Here's a couple more pictures of Yogi Bear my sweet baby. I got them taken at Petsmart. He is doing great, he goes with me every where I go.
Take Care,
Tracy
Hi Gotapuppy.com--I think I am going to try to go with an 18 week old puppy, as it would greatly reduce the risk of infection (i have a suppressed immune system and my docs have warned me about zoonotics)--plus the fact that she is crate trained and pee pad trained. But I want you to know that I have spoken with NUMEROUS breeders/brokers over the course of the past 4 months and I was completely impressed by you and your professionalism! If I am ever again in the market for a quality, well-cared-for puppy I will definitely be giving you a call. I will also refer any friends to you that may be looking for a pup. Thanks again--your babies are beautiful and had I not had this option of an older puppy I definitely would have gotten one of your females. I know they will find wonderful homes!
Raegan C ----- Original Message -----